Naive look
«The naivety of a child's eyes in an adult's body!», looking at these first notebook with a little «technical» hindsight, I still can't believe they ran out so quickly!

It's while putting away my hard drive that I came across these images of the very first travel rolls on Cambodia. Started on July 23rd, 2015 the first scroll was released only shortly before Christmas of the same year. So I said to myself: "That's a pity! The drawings are too ugly for me to be edited…but I put so much energy into them that it would be worth doing something with them anyway".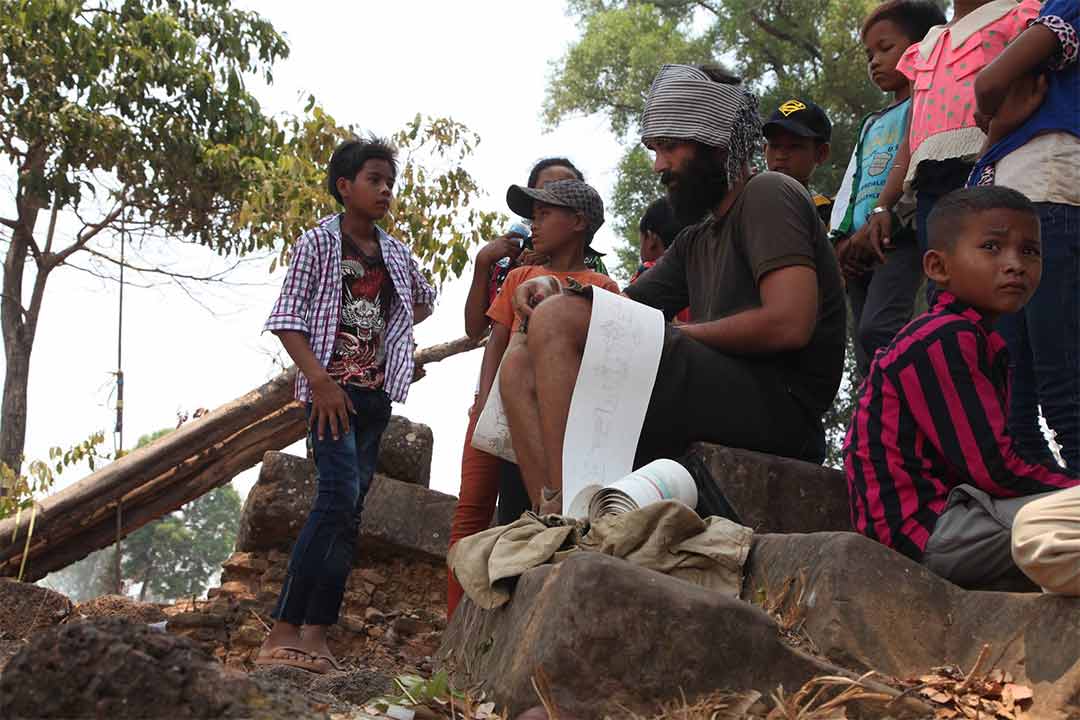 Beauty can be seen in the details
I remember the hours spent, detailing, wanting to specify the slightest pebble, preoccupied by the slightest gravel, not to miss anything, not to forget anything, not to lose anything of what I was seeing: a real obsession! Nourishing my child's gaze, wanting to be an archaeologist, explorer and adventurer of lost worlds at the same time…I tried, again and again, to fit into the scenery, I wanted to BE the drawing!
I wanted to make my own these places, to make them mine, like a kid would want his own fortified castle to be his secret hiding place, his treasure, his refuge! Beauty can be read in the details, even the smallest ones, you have to take care of them by taking your time, you have to cherish them because it is through the details that you create beauty, that you refine your line, your look and your sensitivity. But it is especially thanks to the details that we get out of the clichés and shortcuts too often taken on the "live"!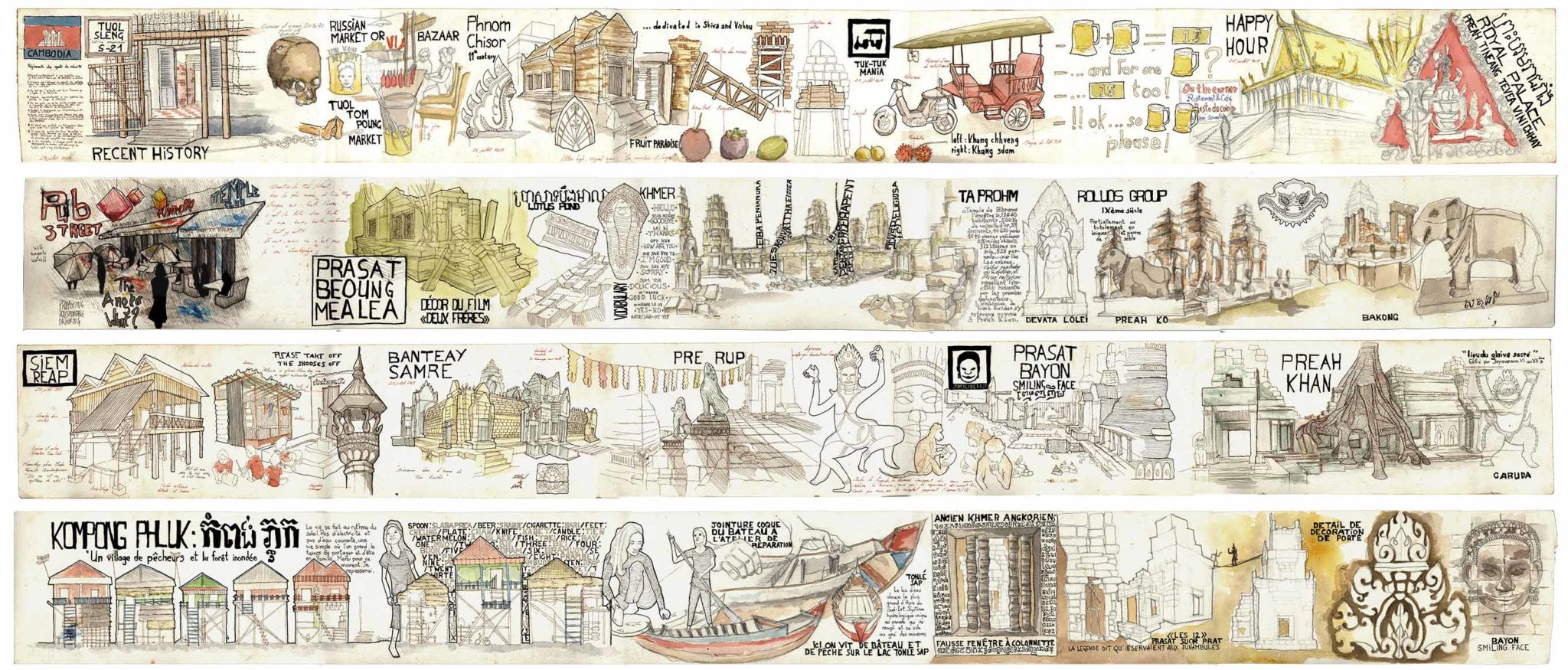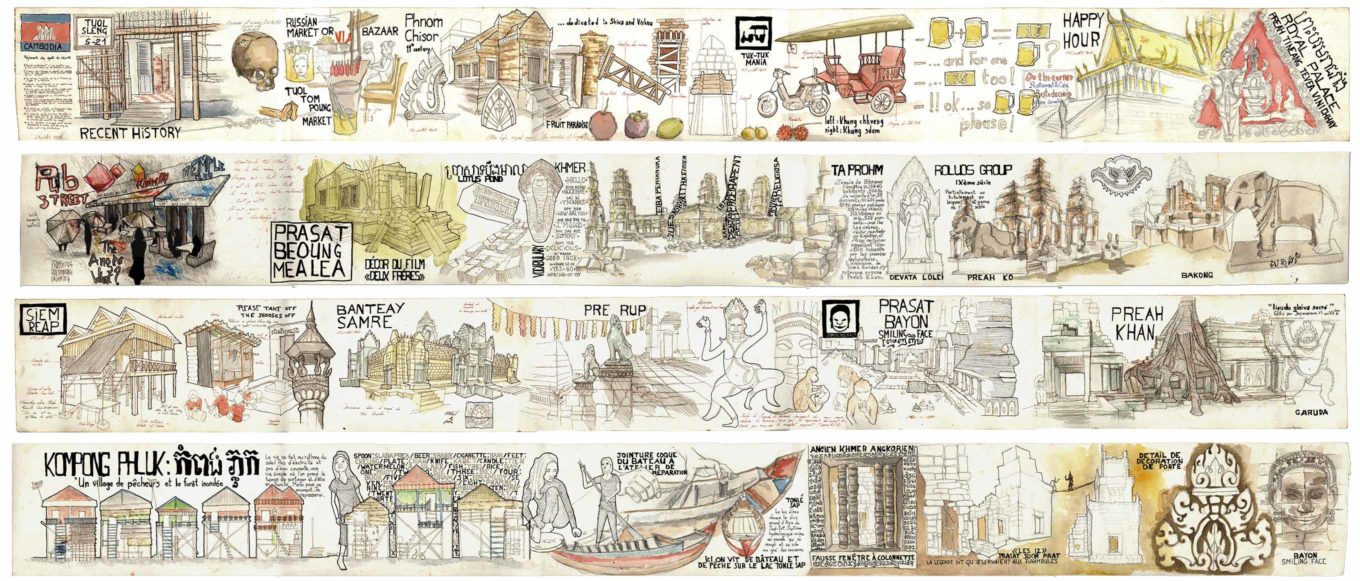 In spite of my subjectivity today on drawing and my "work technique" I will always remember where I come from! At that time, it's still thanks to these 6-7 meters of travel roll drawn that I was able to edit the first 1.5 meters by releasing the first limited edition of 500 copies: a collector's item!
My last dollars had thus allowed me to reproduce the first 100 copies of the limited edition on the history of Cambodia, which I rolled up one by one on my bed in my guesthouse room, a bit of a rush, a bit of roots …. a bit of a mess finally. The next day I went up to Siem Reap as one could imagine "went up to Paris at golden age! "to go sell my travel rolls on the town's big market night square! In 3 days I had sold my stock!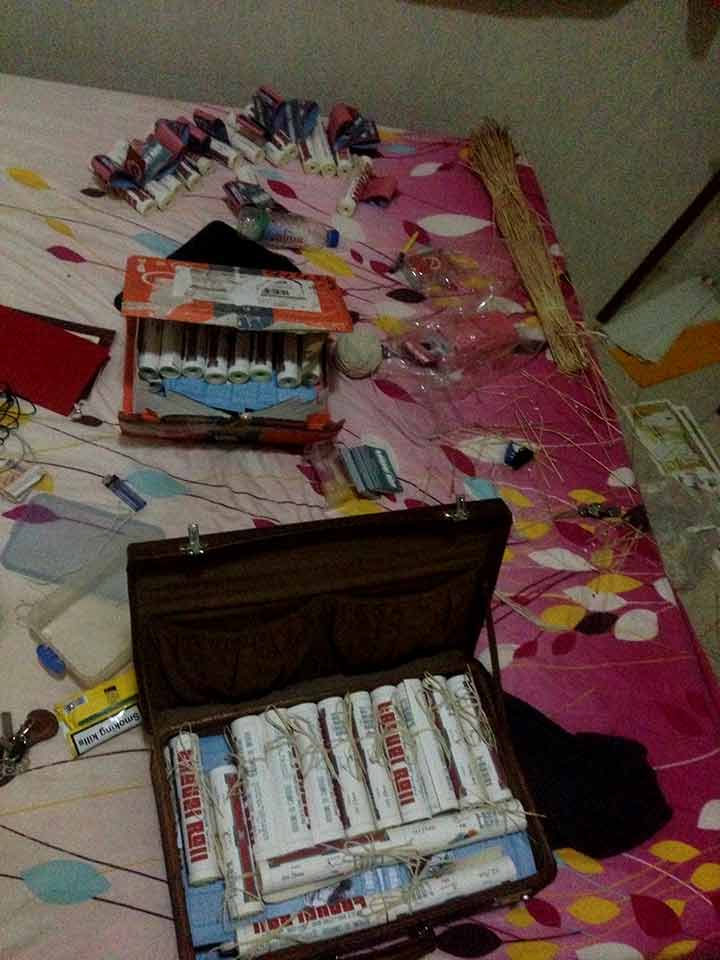 More…

If you want to know more about the very beginning of travel roll : visit this page