Wild Garden
49,00€ – 109,00€
Three versions will be available
1 : LUXURY VERSION

Edition valid only from Friday, September 22, 2023, 7:00 pm (Paris time, +2 GMT) to Sunday, October 1, 2023, 11:59 pm (Paris time, +2 GMT).
In 200 x 30 cm format (original design size), printed on High Definition canvas in France, they will be signed, hand-stamped and numbered (limited edition). They will be numbered according to the number of participants during the period indicated above. (If you are 2 to order this version, it will be noted: 1/2 on one and 2/2 on the other, if you are 20 people, it will be noted 1/20, then 2/20 … up to 20/20 😉)
The cartridge (title of the roll) will be made of labels produced one by one from old papers then glued directly onto the canvas (choice of language in French or English to be added when ordering, otherwise it will be French by default 😊 )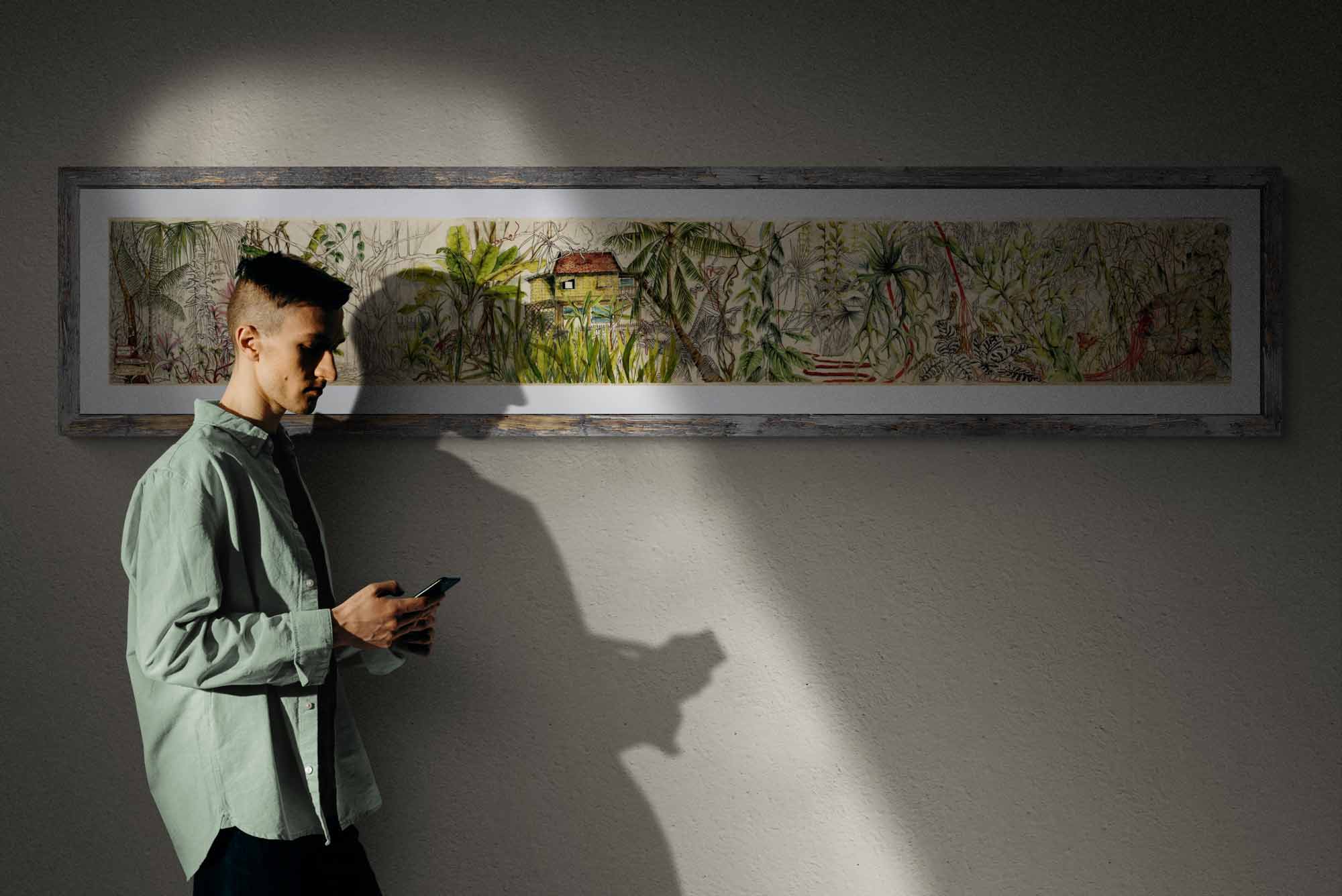 Wrapped in its cardboard case, a dedication will be drawn on each of the cases (it's going to take me another 1000 years to do it ! 😅)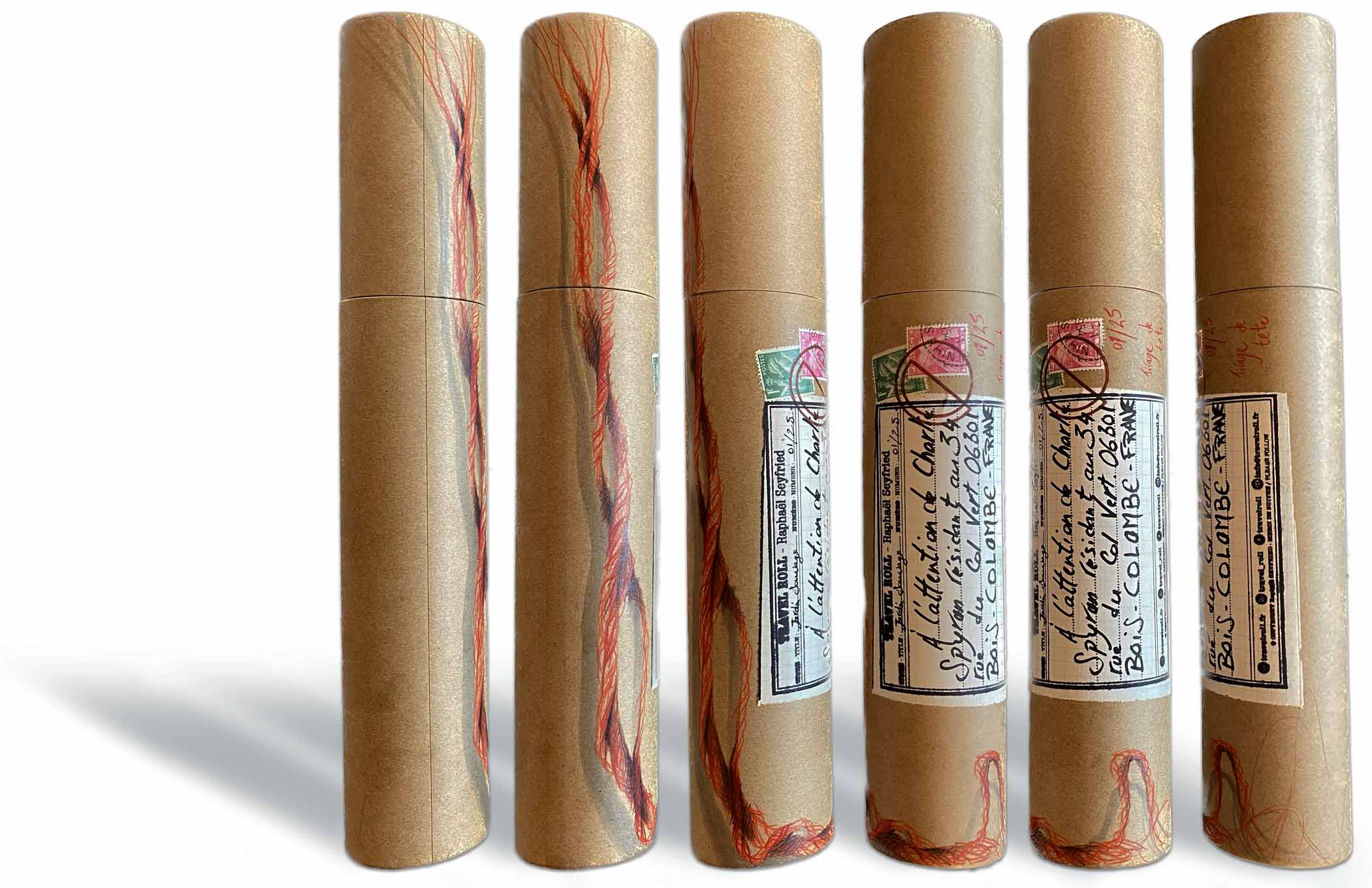 2 : CLASSICAL VERSION

This edition will be in the usual 152 x 23 cm format printed on High Definition canvas in France. Signed, hand-stamped and numbered 250 copies in France (limited edition) 😊. It will be rolled up in its natural fiber case
3 : MINI VERSION

Many of you wanted a smaller version of the scrolls, for fear of filling your walls too quickly with a collection of unrolled and framed egg rolls 😅…so here it is! With this mini version (perhaps others will follow!) you'll now be able to hang twice as many as before! 🤭
Signed, hand-stamped. The mini version will be 80 x 12 cm, printed in High Definition digigraphy on 170g Awagami Bamboo paper. This mini scroll will be wrapped in tissue paper.
Shipments will be made between October 1 and October 14, 2023. Then from December 1, 2023. I'll be in Asia from October 15 to November 30. Thank you for your understanding
---
(How to frame a travel scroll click here)
"Wild Garden" began in a hut at the bottom of a garden…

When I arrived in Southeast Asia in July 2015, in the midst of a long-haul journey, my inner struggles were intense and deep. I was searching for who I was and what I wanted in life.
There, I crossed paths with a small Franco-Khmer family deep in the northwest of Cambodia. They lived from small-scale farming and a little tourism on their fallow land, and dreamed of a more developed area with nature all around them.
I myself grew up on a farm, as my parents are farmers. My training as a landscape architect and the job I left in 2014 in an urban planning office in Lausanne taught me to design large public spaces in an urban environment by mixing different atmospheres, so I designed their garden, and then, it must be said, I was badly in need of a bed and table at the time! 😬

This travel scroll is inspired by that place and those moments.
Drawn using a language that stems from my own beliefs, this parchment, illustrated in part through this garden, was able to stifle my fears and shortcomings, the better to find myself. In any case, I hope it will be able to heal yours as it did for me, because "sometimes, all you need is a wild garden…".
"You'll see what you want to see 😊☺️"