The roll of the French Institute of Cambodia contains some trade secrets that are to be discovered here :
The translation of the Khmer text, written in the Mekong at the very beginning of the roll from French Institute, is here :
រស់នៅ​ដោយ​ពេញ​ចិត្ត​នឹងវប្បធម៌​នានា គឺ​ជា​ការ​ស្វែង​យល់​អំពី​សារៈសំខាន់​នៃ​​កិច្ច​សន្ទនា​រវាង​ការ​សម្ដែង​​ចេញ​មក​ទាំងឡាយ​របស់​មនុស្ស​លោក។ គឺ​តាម​រយៈ​ការ​ចែក​រំលែក ​ការ​យល់​ឃើញ​របស់​ខ្លួន​ផ្ទាល់​អំពី​លោកី និង​ស្ថិត​ក្នុង​ទស្សនៈ​គោរព​ចំពោះ​ភាព​ខុសគ្នា​នេះ​ហើយ ​ដែល​យើង​អប់​រំ​ខ្លួន​ឯង និង​ដែល​យើង​ចូល​ទៅ​ក្នុង​គន្លង​នៃ​អនាគតកាល។ វិទ្យាបារាំង​នៅ​កម្ពុជា​គឺ​ជាទីកន្លែង​មួយ​សម្រាប់​ការ​ផ្លាស់ប្ដូរ​មតិយោបល់ ពិភាក្សាគ្នា និង​ចម្រុះ​វប្បធម៌​បែប​នេះ​ឯង ជា​ទីតាំង​ដែល​វប្បធម៌​នានាជួបគ្នា នាំ​មក​នូវ​​ភាព​សម្បូរបែប​ឱ្យ​គ្នា​ និង​ការ​ស្វែង​យល់​ពី​គ្នា​ទៅ​វិញ​ទៅ​មក។​
"Living cultures means understanding the importance of dialogue between different human expressions. It is through the sharing of one's own representations of the world and in respect of its differences that one educates oneself and becomes part of the future. The French Institute of Cambodia is one of those places of exchange, debate and cross-fertilization where cultures meet and are enriched by the contribution and understanding of the other."

The leaves that fly away each have a Khmer letter. Together, they compose a slogan :
The request of the IFC (Institut Français au Cambodge) was to illustrate their new slogan
"Living Cultures": ស្វែង / យល់ / ពី / ពី / វប្បធម.
But I also wanted to integrate their old slogan,
"Sharing Culture": វប្បធម៌ / ចែក / រំលែក.
Living Cultures – Sharing Culture
ស្វែង យល់ ពី ពី វប្បធម៌ – វប្បធម៌ ចែក រំលែក
By deleting one of the terms "វប្បធម៌" meaning "culture", we obtain:
ស្វែង យល់ ពី ពី វប្បធម៌ ចែក រំលែក
i.e. the slogan: LIVING CULTURES IN SHARING
The numbers correspond to 5 quotations :
1. "I am almost never serious and I am always too serious, too sensitive, too cold. I am like a collection of paradoxes" – Saussure
2. "How to learn to change glasses"
3. "If you can't find shoes on your foot, walk barefoot."
4."If you have a library and a garden, you have everything you need" – Cicero
5. "If in doubt, go to the library" – JK Rowling
The hidden drawing from French Institute roll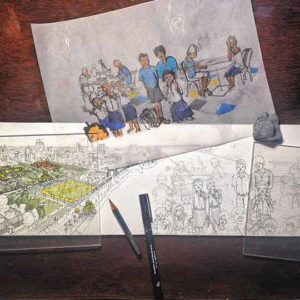 When it comes to drawing an "idea" (here a slogan), there is a long research phase at the beginning. In 2010 Sophiline Cheam Shapiro, a choreographer, dancer, singer and educator who has influenced many new ideas in Cambodian classical dance create a show called "The Life of the Giants". The originality of one of the characters rests in the position, the headdress as well as the costume created especially for the performance.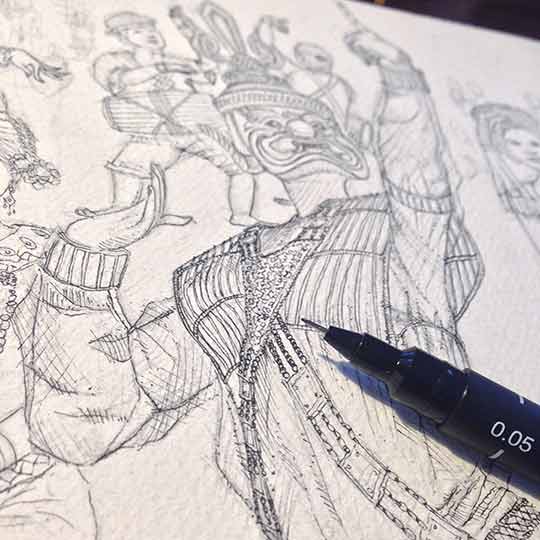 So I started drawing this character thinking I was doing the right thing, but as it was an "original creation", I had to find an alternative to replace it with a character in a more "classic" costume. So there is, on my original roll, the atypical character created by Sophiline Cheam Shapiro. But on the mainstream version, we see a classic ogre.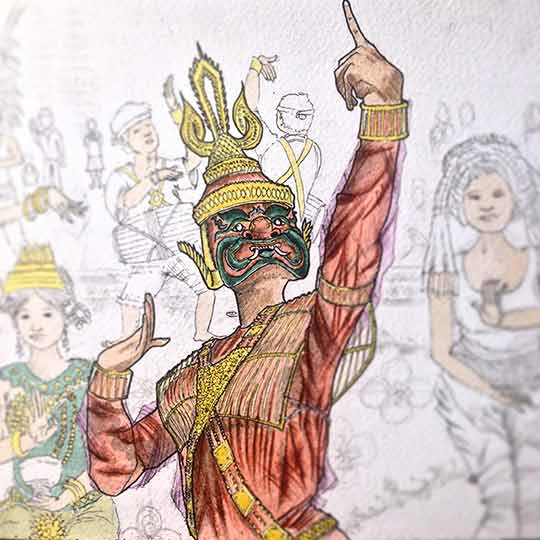 List of books in the library :
Little Prince by Antoine de Saint-Exupéry
Lemony Snicket's A Series of Unfortunate Events by Lemony Snicket
Marlysa by Jean-Charles Gaudin and Jean-Pierre Danard
The Songlines by Bruce Chatwin
The Ants by Bernard Weber
1984 de George Orwell
The war of intelligence by Laurent Alexandre
Horla by Guy de Maupassant
Fahrenheit 451 by Ray Bradbury
Métamorphose de Franz Kafka
Les voyages de Gulliver by Jonathan Swift
The Use of the World by Nicolas Bouvier
The Best of the World by Aldous Huxley
Germinal by Émile Zola
Periodical of the Journal des voyages
Foundation of Isaac Asimov
Propaganda by Edward Bernays
Les misrables by Victor Hugo
Don Quixote by Miguel de Cervantes
Robert Louis Stevenson's Treasure Island
The Fables of the Jean de la Fontaine
Isabel Azevedo Drouyer's Sacred Tattoos
Luigi Serafini's Codex Seraphinianus
Charles Baudelaire's Flowers of Evil
Tian's Hare Year
Collection The books of which you are the hero
The mystery of Jostein Gaarder's patience
Tracks by Robyn Davidson
Lois Lowry's tracks
Michael Ende's endless story
George Groslier's Cambodian dancers
Jules Verne's 80-day world tour
DeerKhmer flying by Sim Sarak and Cheang Yarin
Alex Alice's castle of stars
The art of telling the story of Matthias Debureaux's travels
Twelve-month ceremonies, Cambodian annual festivals
Jack London's Croc-Blanc
Charles Perrault's Les contes de Perrault
Cambodian legends by G.H. Monop
Schuiten and Peeters Urbicande fever
…well, yes! I had still thought a little bit about that scroll! (ahah!) 😉