Sale!
Ramayana mythology
54,00€ – 200,00€
2020 version : Print on canvas, signed and stamped. 152 x 23 cm, including 1 cm margin. Natural Cambodian case.
Classic version 2022 : Print on canvas, signed and stamped. 152 x 23 cm, including 1 cm of margin. Natural Cambodian case.
Deluxe version 2022 : Parchment with canvas print, numbered to 25 copies for France and Cambodia. Signed and stamped. 250(+10) x 30(+10) cm and its holographic authenticity sticker. More information below. (on order only, please be patient. If you want a personalized dedication in writing, please specify it in the "additional information" when paying)
It is a travel object, a real artifact, as if found in a forgotten place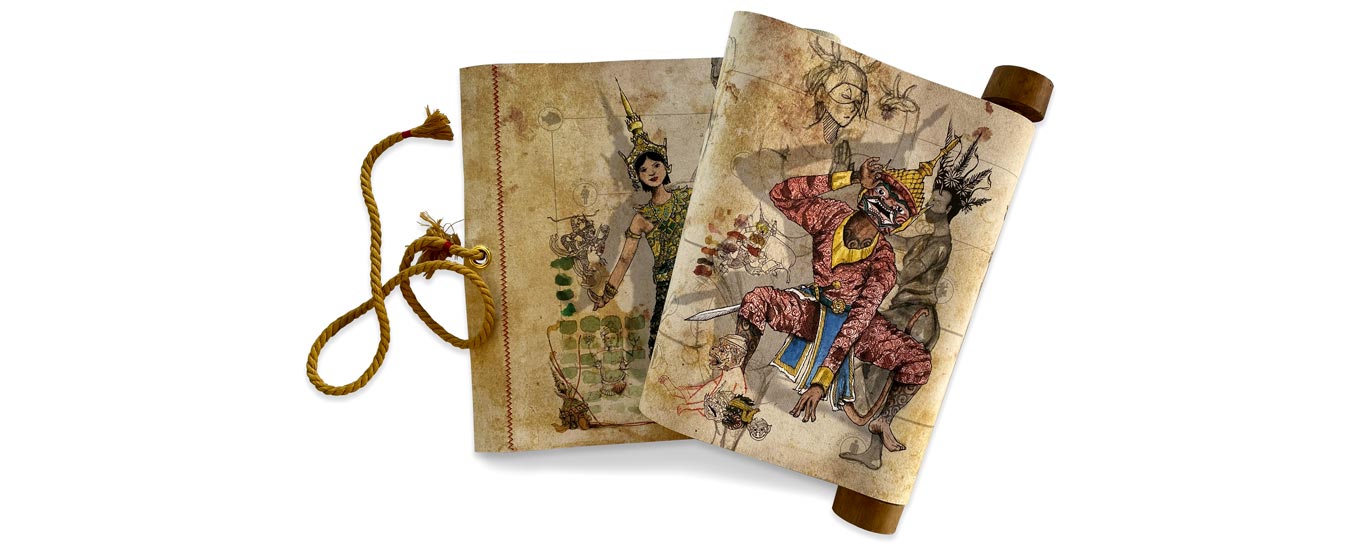 Comparison of the different versions

On this deluxe version there is no "Travel Roll" band on the left, the family tree is present in the background and an additional design on the right.
10 cm on both sides of the parchment allow to create the hemmed seams and to slip the wooden handle. An eyelet and a cord will close the scroll. Everything is handmade with old wood. So each one is a little different. You can also choose to have it framed for the more ambitious ONLY, because 2.5 meters is not nothing!
As a gift : an exclusive glitter sticker
Family tree of the Reamker


The reconstitution of this family tree is based on my personal research. It does not pretend to be exhaustive (…but it took me several weeks of reading and understanding!)
There are also A4 size paper rolls available by clicking here as well as magnets visible here
Additional information
The 2020 version was rushed out, in France only, during the Covid 2020 period. When I started to work on it for the Khmer translations and the version to be made available in Cambodia for the Khmers and for 2022, I decided to revise everything. That's when I redid the whole layout by combining all my working sketches from the dancers' scroll visible by clicking here, as well as several originals visible here: a new version thus appeared.
Ramayana in drawing in Southeast Asia
To begin with, 3 types of classical theater are represented in Cambodia. First, the Royal Ballet with Apsara dance. Second, the Sbek Thom with the shadow theater. And thirdly, the Lakhon Khol with the masked dance. Indeed, it is in the latter that the characters of the Ramayana are represented. The Lakhon Khol uses papier-mâché masks and finely decorated costumes to play the many episodes of the adventures of the gods, monkeys and demons of the Ramayana. Rama, Ravana, Sita and Hanuman are only the main characters in this epic adventure that is the Ramayana. So, it's been more than a year since I started working on this Ramayana travel roll. It takes time… a lot of time to understand a little bit how it works. I realize how it's complex to put together the genealogy of Game of Thrones with the costumes of the Knights of the Zodiac and the super-powers of the Marvel heroes. All while creating a completely coherent universe ! Travel roll on the Reamker, also called Ramakien is a travel diary with some of most important characters about this epic poetry. It's an important part of culture in numbers of country from south east Asia. From India, Cambodia, Laos, Birmanie, Thaïland, Malaisia, some part of Indonésia, Philippines, Yunnan province in China, Tibet, Népal, Sri Lanka… All of this countries have Ramayana story deep inside them own life.